In this extraordinary series, Geshe Tashi gives us regular updates on the Coronavirus Pandemic amongst the Tibetan diaspora in India through the lens of Sera Monastery, home to around 6,000 monks. In response to emails asking after his welfare and requesting advice on Coronavirus and Buddhist practice, he generously shares his observations, thoughts and advice in his usual warm-hearted and accessible style.
In this update Geshe Tashi reflects on the impermanent nature of our routines, as the bi-monthly Sojong, or purification day, is attended by only five monks, and shares with us why he found the candlelight vigil uplifting.
In the Practicing in a Pandemic section, Geshe la reads and discusses four entries from the book, "1001 Pearls of Buddhist Wisdom". Through his choice of quotes around wisdom and a pure heart, he skilfully paints a picture that adds up to be bigger than its four parts, an approach that is particularly useful and inspiring in these disorientating times.
We attach a photo below of Geshe Tashi during the candlelight vigil.
https://foundationsofbuddhistthought.org/
Khen Rinpoche Geshe Tashi Tsering taught in London for over 25 years and is currently Abbot of Sera Mey Monastery in Karnataka State, India.
Khen Rinpoche Geshe Tashi Tsering and colleague taking part in India's nationwide candlelight vigil.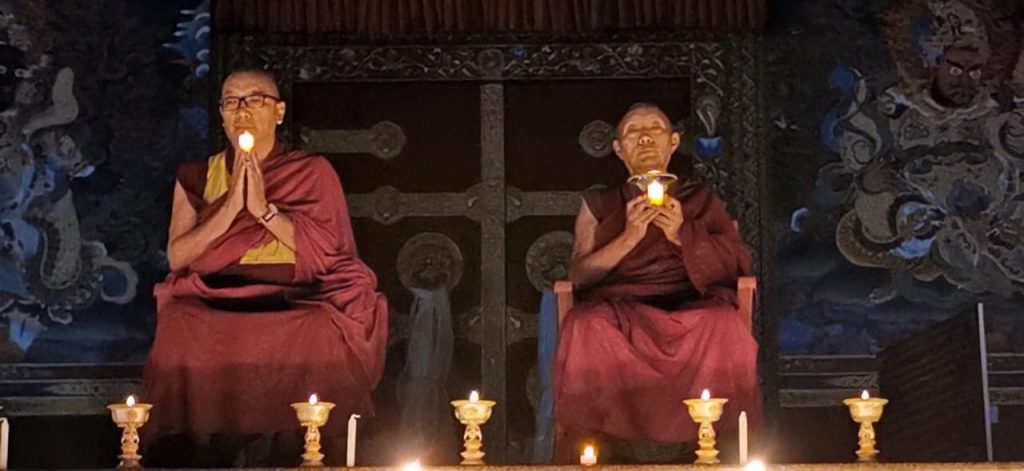 At 8am each day, a small number of monks at Sera Mey Monastery are carrying out a Medicine Buddha Practice.  You are welcome to join them online at this time. Geshe Tashi led the first one, which you can see here on Sera Mey's Facebook page.