Geshe Tashi Tsering was born in born in Purang, West Tibet in 1958.  At an early age he fled over the Himalayas with his parents and younger brother to escape the occupation of his country by the Chinese government and its state sponsored destruction of Tibet's unique culture.  This was a dangerous escape route over the Himalayas.  Many died from the treacherous conditions.
He received his early education in schools run by exile Tibetan Government in India. His family moved to a refugee settlement in Karnataka state, South India, and in 1970, Geshe Tashi was among the first to become a monk at the newly established in exile Sera Mey college of Sera monastic university.  Together with his fellow monks, under extremely hard physical conditions, he helped re-build this famous monastery and college.   
After following the traditional study programme centred around the five key topics of the Nalanda Tradition of Tibetan Buddhism: Philosophy, Metaphysics, Epistemology & Logic, Psychology  and Monastic Discipline, Geshe Tashi graduated with the highest honours becoming a Geshe Lharampa in 1990. He went on to study at Gyuto Tantric monastery from 1990.
Geshe Tashi has been teaching in the West since 1991, first at Nalanda monastery in France, then from 1994 to 2018 at Jamyang Buddhist Centre London.  He has also been the main teacher at Jamyang Buddhist Centre Leeds and Jamyang Bath.  He has traveled to many other European countries, USA and Asia, to lead Buddhist courses, conferences, and interfaith dialogues.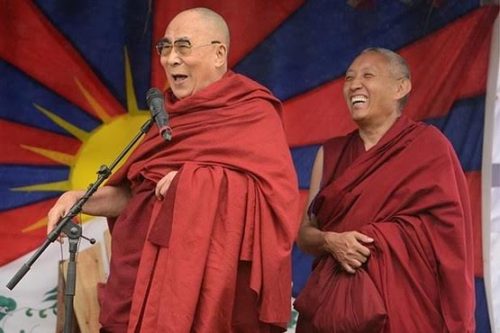 Geshe Tashi has created The Foundation of Buddhist Thought campus course and The Foundation of Buddhist Thought on-line course.  He is the author of a six-volume series by the same name, published by Wisdom Publications.  He has also created the Lam Rim Chenmo campus and on-line courses.
 Geshe-la is known for his understanding of the western mindset, and for his ability to present the most complex Buddhist teachings with clarity, authenticity and sophistication.  He has a rebellious streak and a naughty sense of humour.  
He loves the London parks, he is a keen runner, he enjoys wildlife documentaries, and he was the official Buddhist Chaplain for the 2012 London Olympic Games.
When His Holiness the Dalai Lama is in the UK or parts of Western Europe  Geshe Tashi often accompanies him on his tours as an informal translator.
Taking mindfulness as a social movement as his dissertation topic, he received an MA in Social Anthropology at the School of Oriental and African Studies of London University graduating in 2017.
In May 2018 Geshe Tashi Tsering was appointed the 91st abbot of Sera Mey monastic university by His Holiness the fourteenth Dalai Lama of Tibet.