The next part of my enthronement story is my trip to see His Holiness the Dalai Lama. Initially I requested an audience with him by email, and His Holiness's office responded by saying that the 25thof June would be the best time, after his visit to Europe.
So my brother Geshe Wangchuk and I set off for Dharmsala on what was to be a very, very tough journey.  First of all, we spent five hours in a car, driving from Sera to Bangalore.  Then we flew to Delhi.  We arrived relatively early in the morning in Delhi.  Even so the temperature was above 41 degrees, it was really burning.  But we had a nice air-conditioned car to take us to a hotel run by Sera Mey monastery.  We rested there until  7.30 that evening.  Then we took a twelve and a half hour bus journey to Dharamsala, arriving the next day around 8 in the morning.
One of my brothers, Yamphel, was waiting for us at the bus station.  He took us to his place, which is a place from his work.  He is the director of Sambhota Tibetan Schools, so he has that official residence, a simple, bungalow type house. Geshe Wangchuk and I rested there the whole day.  The next day early morning we were asked to come to His Holiness's residence at 8am, so we were there at 8.  There were many Indian people going to see His Holiness, and there were other Tibetans – one lama, and also one geshe who is the newly appointed abbot of Drepung Loseling monastery.  We were asked to wait until all the Indian audience had finished.  In addition there was a pre-arranged live brief talk and Q&A from Melbourne, Australia, and so His Holiness's schedule was running quite late.  So we were told we would need to wait until 11 am, but there was no problem – we were all served with tea and so forth.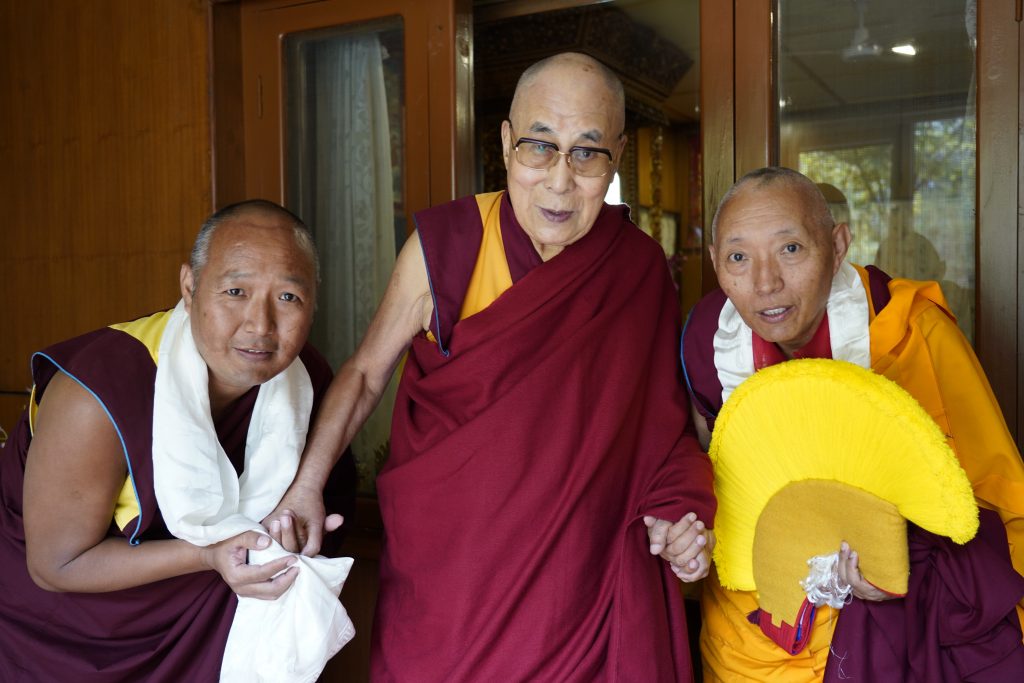 Around then, one of His Holiness's attendants asked me to come with him.  I approached His Holiness in his official rooms, in his own chair.  It was a very nice change, because in the last few years whenever I have met him it has been mainly in a hotel – in Europe in different hotels.  But this time was in his residence.  Seeing him very relaxed and so on was very nice for me.  He gave me some good advice, and one of the pieces of advice – of course most of the advice was on how to run the monastery, particularly around the monastery's educational programmes, but also that the monastery should have the ability to provide good teachers for the ordinary Tibetans as well as non-Tibetans – but one of the pieces of advice His Holiness gave me was very interesting and surprising.
His Holiness asked me when I'm going back to the UK, and I said, "No, I'm not going back.   I've resigned from Jamyang."  He said, "Okay, you have resigned, but you should go back to the UK and continue to keep your connection with the people with whom you've built a connection over the last twenty-something years.  It is very important to keep that connection."
That was a little bit surprising advice for me, because I had decided I wouldn't visit Europe for at least two years, but His Holiness said I should go at least once a year to lead classes and keep a connection with those people I already have a connection with.  So, that was quite surprising advice.
Then His Holiness asked me to join an interview with two other people (this newly appointed Abbot of Drepung Losling, and another person, a young lama).  We were taken to a bigger room and asked to sit together, and he explained some of his visions.  His Holiness the Dalai Lama usually outlines three visions. Out of those three, one of them, from within the teachings of the Buddha, and particularly from those Nalanda masters, is to extract Buddhist psychology and epistemology, Buddhist logic and philosophy and to try and make them available to non-Buddhists in educational institutions, and to other ordinary people.  His Holiness has been working hard to do that. He asked me and this other Geshe to join a conference that was being organised by the New Delhi Chief Minister.  They had invited His Holiness for that conference.  It is called "The Launch of Happiness Curriculum", and it is led by this New Delhi Chief Minister. There were about 5,000 educators and teachers, and some students who attended on the 2nd of July.  His Holiness asked us to join because he wanted to say to these people, "We have institutions, like Sera, Ganden and Drepung, which can provide them with good teachers to really bring genuine happiness without any religious content." And in that context he wanted to introduce me and this other Geshe.  So, that was also quite a surprise for me.  It was very good advice, so we both accepted, of course.  But I also had to return to Sera first, so that same day in the evening, my brother Wangchuk and I took the return 12 hour bus journey back to Delhi, staying in Delhi during the day.  In the evening, we flew to Bangalore, then from Bangalore to Sera, once again we took the five hour car journey.  We arrived really early in the morning the next day.
Then I had two full days of activity at Sera Mey. The first day was for the master who wrote the commentaries on some of Sera May's great texts – the ones we use to study -particularly the Madhyamika teachings and also Abhisamaya-alamkara teachings.  This yearly anniversary of his death was also the first day of my joining in with and participating fully with the monks.  I needed to give a brief talk about this master.  Then the next day there was a full day performing prayers for protection.
After that I needed to go back to Delhi on the first of July, do the same journey – 5 hours back and forth from Sera to Bangalore, then again fly to Delhi, and the next day join the conference.
That conference was quite interesting because His Holiness was the chief guest, and there were other education leaders who gave talks. And me and the new Drepung Loseling Abbot were asked to join the lunch for His Holiness and some of the other chief guests.  So there His Holiness talked a lot – sometimes in English so all the guests could understand.  That all finished the 2nd of July around 2pm.  Then we went back to the hotel for a shower because it was extremely hot, and then back to Delhi to fly back to Bangalore, where a Sera Mey car was waiting for me, to take me back on the 5 hour journey to Sera.
So all that was part of my enthronement as the newly appointed Sera Mey Abbot, which included going to see His Holiness to seek his advice.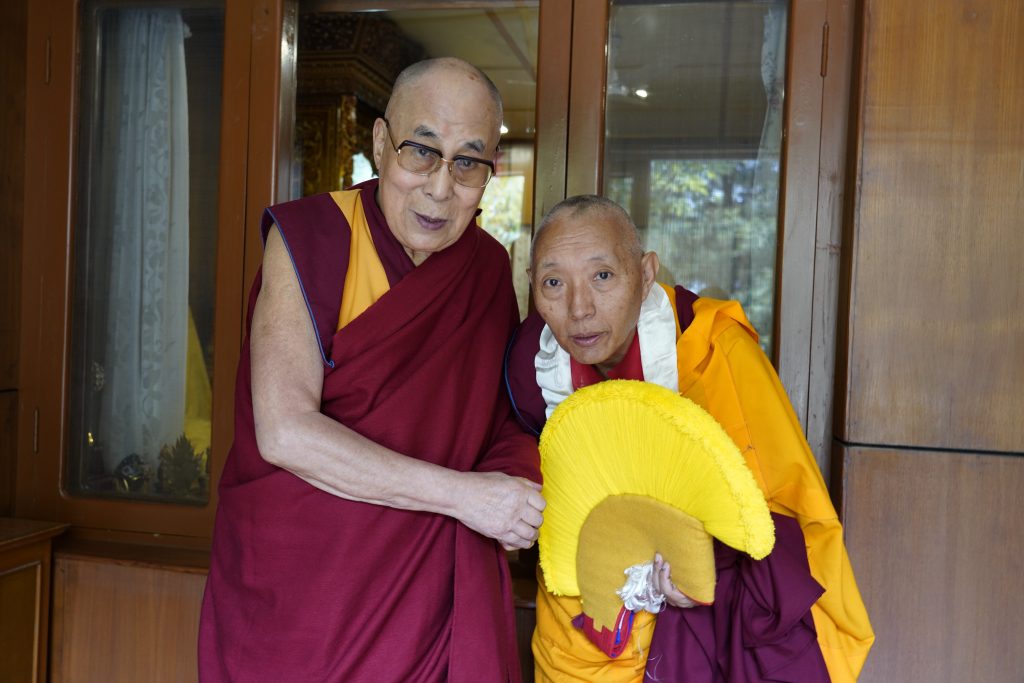 Now, my first meeting with the heads of the different departments: education, health, school, and finance, and representatives from the 14 houses, is arranged for the 8th of July, which will come soon.  That will be my first time leading the actual meeting as Sera Mey's Abbot.  There I will talk briefly about what my priorities will be as Abbot, and I will also share with them the advice His Holiness has given me.  Then I'm going to visit each department, day by day, and try to learn all about those things.
So, this is what I have been doing in my first month or so after leaving London.  I hope to share with you more of my coming activities once again in my later news.
Thank you and bye bye!
Also as I said at the beginning, people who read and also give comments, I'm very happy with that, thank you for that too.
Bye bye,
Geshe Tashi